California is widely considered an ideal place to live thanks to its amazing weather, beautiful nature, and an endless list of fun and exciting things to do. Long Beach is a well-known port in southern California, barely 20 miles south of Los Angeles, and it's a coveted living destination for many. This stunning seaside city is renowned for its proximity to the waterfront and many enjoyable attractions.

But what is it like to live in Long Beach?

With a population of approximately 470,000, the city of Long Beach offers residents a welcoming atmosphere with urban amenities, but nothing as overwhelming as L.A. or San Diego. Long Beach is a coastal jewel of California, but it's also much more than that. The city offers mouth-watering dining options, a glorious shopping scene, vibrant nightlife, and tons of activities for both indoor and outdoor adventurers.

If you're considering relocating to Long Beach real estate, then there are a few things we think you should know about the area first.
1. Expenses

California is an amazing place to live, but that doesn't come for free. Before you move to Long Beach, it helps to have some idea of the high cost of living. The California lifestyle is far from cheap, and living in Long Beach is no exception.
Living expenses
in the state of California are usually high compared to the national average, but in Long Beach, that is especially true. Due to its convenient location in southern California — including its proximity to many other affluent cities — Long Beach is regarded as one of the
most expensive
cities in the United States. It's a big change from anyone used to more moderate areas of the country.

Not only are housing costs in Long Beach exorbitantly expensive when compared to other areas in the country, but other living costs are inflated as well. You can expect your utility bills, transportation costs, and even grocery receipts to be much higher when living in Long Beach than in other areas of the country.
2. Vehicle registration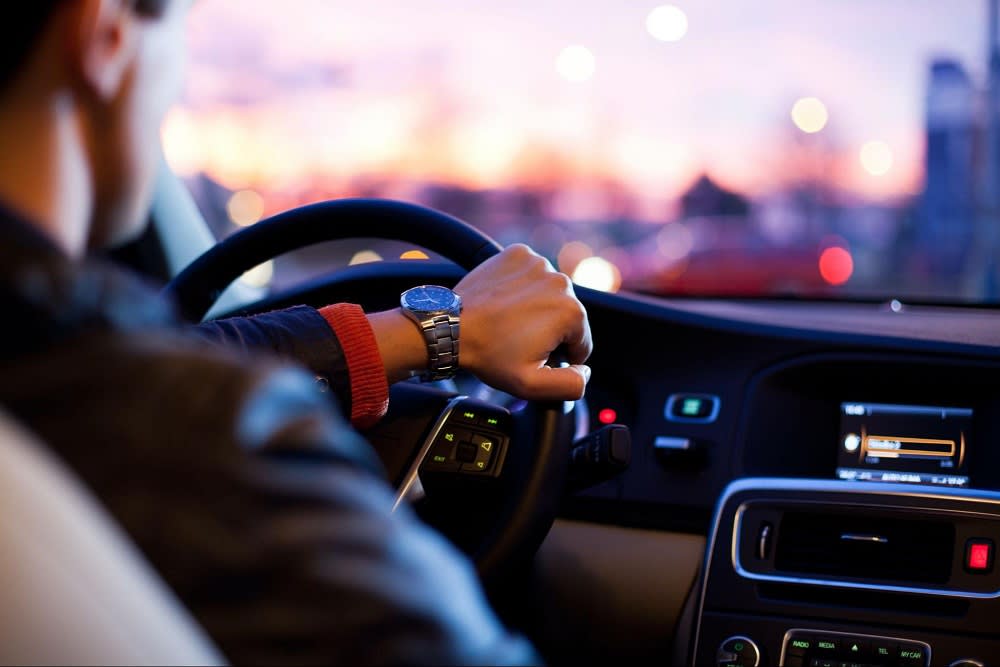 Photo courtesy of Unsplash

When you relocate to a new town, there is usually a laundry list of things you need to update. When you move to Long Beach, you want to make sure that updating your license and vehicle registration is high on your list.

Long Beach is a fairly dispersed beach town, much unlike other busier cities like San Francisco or New York City, where walking everywhere is commonplace. Although there are a few reasonably walkable sections of Long Beach, a car is required to maintain your quality of life if you want to be able to get around easily.
If you relocate to California from another state, keep in mind that you will only have
10 days
once you have established residency to obtain a California state driver's license if you are bringing a car with you.

Unfortunately, that means a visit to the DMV. You must visit the DMV to register as a California resident if you wish to vote, file taxes, and pay school fees and tuition in your new home. Be ready to fill out papers and pay a registration fee. Check your local DMV to see if you need to set up an appointment to update your registration.
3. Consider the economy
Considering the economy and job market of an area before you move is a great way to determine your stability in your new home.
As of July 2022
, the unemployment rate in the Los Angeles-Long Beach-Glendale metro area was 5%.
Major employers
in Long Beach include Boeing, the Aquarium of the Pacific, California State University Long Beach, St. Mary's Hospital, and many others.
4. Expect great schools
Photo courtesy of Unsplash

If you're relocating to Long Beach real estate with kids in the picture, then you're in luck. Long Beach boasts an excellent educational system. The area is recognized both nationally and internationally for having some top-rated schools.

Education is significant in Long Beach, where the school system has been ranked among the best in the country. You can expect quality education opportunities for grade schools and beyond when relocating to Long Beach. The area is home to a large number of reputable universities and colleges for students looking for chances at a quality higher education.

One of the most well-known universities in the area is California State University, Long Beach.
5. The amazing weather
A lot of people think of California as always being warm, with sunny skies, and offering amazing weather all year around. Long Beach doesn't disappoint. Rainfall is rare in Long Beach, with averages of
278 days
per year being pleasant and full of sunshine. Long Beach rarely gets more than 13 inches of rain every year, with February being the month with the most rain. August is the hottest month, but even then, the average temperature is right around 80 degrees Fahrenheit. In the cold season — a "winter" from November through March —
December
is the coldest month, with the coldest nighttime temperatures being, on average, 47 degrees Fahrenheit. With these mild temperatures, you can expect to be comfortable all year long.

It never snows in Long Beach because the temperature never gets cold enough. This means you will never need to bulk up in layers of heavy snow clothes or take out the ghastly snow shovel to clear away your driveway before work. This is heavenly if you're relocating to Long Beach from a northern, snow-leaden state.
6. Stunning beaches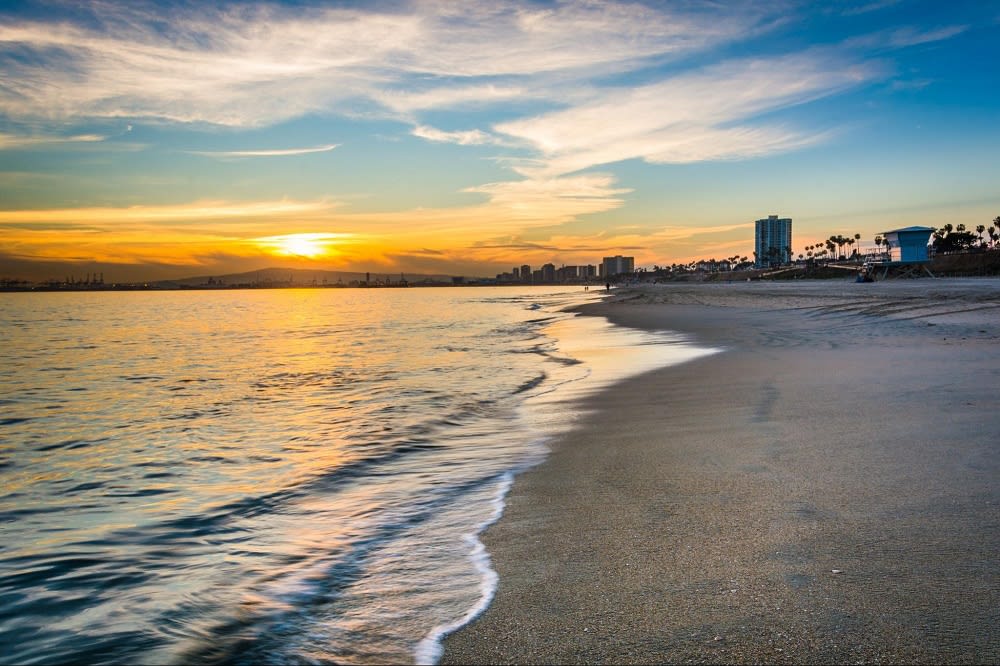 Photo courtesy of Shutterstock

It's no secret that Long Beach has some fantastic beaches. What better way to enjoy a coastal city you now call home than by exploring its breathtaking seaside?

Long Beach has 28 stunning miles of coastline, featuring wide, soft, pristine beaches that earned the city its name. There are many access points and public beaches to choose from, even some that are pet-friendly, so you can feel free to bring your four-legged friends along.

Alamitos Bay Beach is considered a favorite since it's a great place for strolling under the sun while soaking up the views. You can watch the sunset while enjoying a leisurely walk. If you're looking for the best beach where you can bring your pet along, check out Rosie's Dog Beach. Mother's Beach is a fantastic destination for the whole family since it provides plenty of entertainment for the kids. Then, of course, you can't miss Long Beach City Beach, which is the city's primary beach, well-liked for skating and biking.
7. Recreational opportunities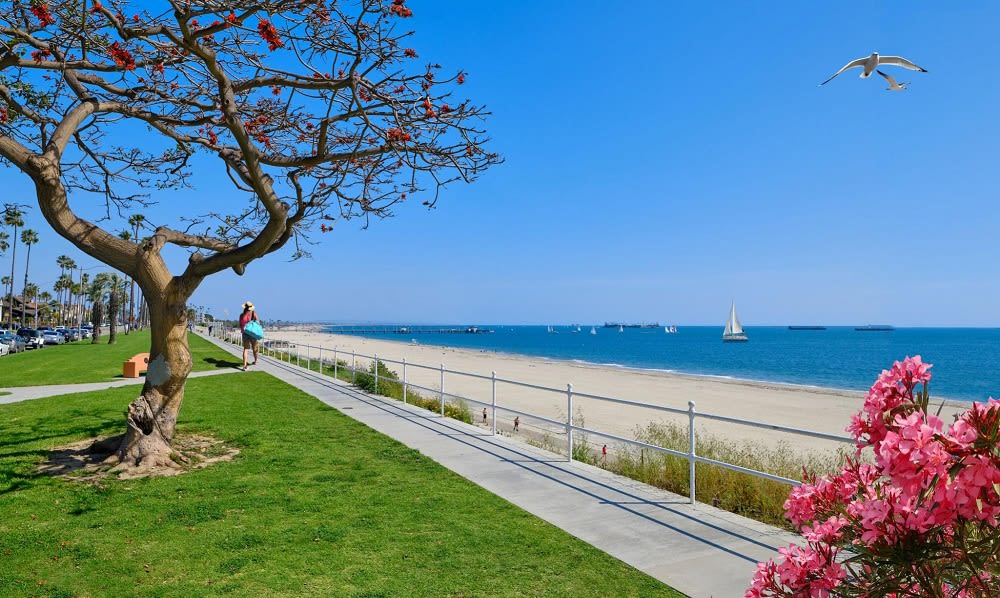 Photo courtesy of Shutterstock

Long Beach is renowned for its adventurous culture and active lifestyle. As you would expect, the area is dotted with parks and outdoor areas that locals enjoy to explore their thrill-seeking side and active lifestyles.

There is always something to do outside, thanks to the miles of natural green spaces, walking and bicycling routes, dog parks, playgrounds, beaches, and picnic areas. Being outside is a part of daily life in Long Beach because of the constant sunshine and warmth. There's never a good excuse to stay inside and avoid the sunshine.
Reach out to Ron Costa Real Estate
Relocating to a new California city is exciting, but you want to find the right houses for sale in Long Beach to make your transition seamless.
Ron Costa
— an expert in
Long Beach real estate
— is ready to help you find the home of your dreams. No matter which style of home you're looking for, Ron Costa is here to support you. Reach out to Ron for a low-pressure approach to high-end Long Beach real estate.

*Header photo courtesy of Shutterstock