Long Beach, CA, is located about 20 miles south of Downtown Los Angeles and is currently the 42nd most populous city in the country and the seventh most populous in the state of California. The port of Long Beach is the
second-busiest port
in the country, right behind the port of Los Angeles.
The city is famous for its many waterfront attractions. The
RMS Queen Mary
is permanently docked in Long Beach. The
Aquarium of the Pacific
is always packed with nature and ocean enthusiasts. It features more than 11,000 animals and 500-plus species within its exhibit halls, which attract more than 1.5 million visitors a year.
The
median list price
of homes for sale in Long Beach, CA, is about $745,000, which is up from its median list price of about $670,000 just one year earlier. As with many cities throughout the state of California, Long Beach is experiencing an aggressive seller's market, which means that there are more buyers looking to purchase homes for sale in Long Beach than there are homes available for sale. Before you make a final decision about which piece of Long Beach real estate is perfect for you and your family, check out some facts about its different neighborhoods.
Belmont Heights

Belmont Heights is a district in the southeast section of the city and borders the Pacific Ocean. It commemorates the old city of Belmont Heights. Today, this area is primarily residential. It has a demographic of early middle-age couples, with an overall population of about 9,300 residents.

The neighborhood is famous for the wild parrots that populate the local palm trees. Home styles range from Craftsman bungalows to Tudor and Spanish Revival. Residents enjoy its walkability and dog-friendly atmosphere, as well as accessibility to shops, cafes, and outdoor activities.
Bixby Knolls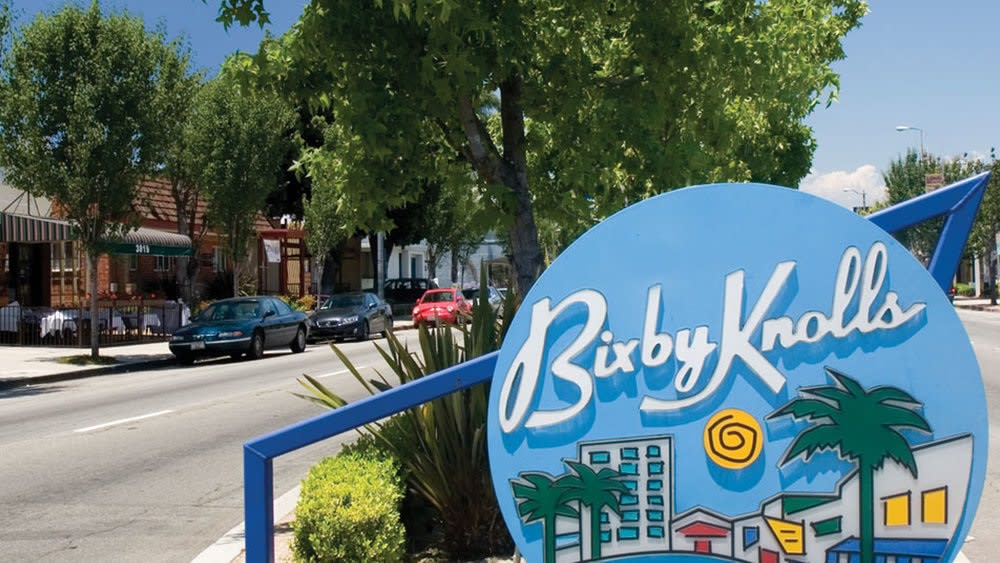 Bixby Knolls is home to many multi-generational legacy families. The homes here were custom-built between 1920 and 1940. It is an active community of more than 32,000 residents that offers regular community events, arts and culture exhibits, and literary clubs.
Nature lovers and families can enjoy the outdoors in the numerous local parks and socialize with their neighbors in this tightly knit community. It is home to the Helen Borgers Theatre, which hosts the Long Beach Shakespeare Company. The expansive
Virginia Country Club
offers a 116-acre golf course that's been challenging players since 1921.
Bluff Park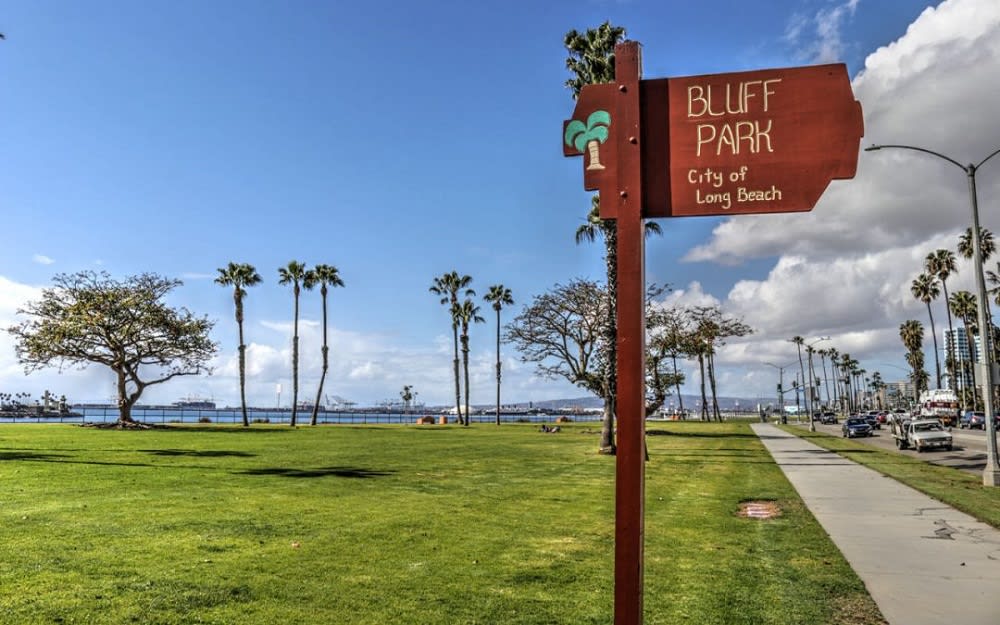 Bluff Park is an upscale neighborhood of approximately 8,500 residents that lies along a section of the beach called Bluff Park, hence the neighborhood's name. The area is lined with apartments and grand homes that date to the 1900s as well as private mid-century homes. Art enthusiasts will enjoy access to the
Long Beach Museum of Art
, which is home to more than 4,000 paintings, drawings, and decorative art objects. As is the case in several neighborhoods in Long Beach, Bluff Park is an area that's dog-friendly and full of opportunities for outdoor activities, shopping, cafes, and entertainment.
California Heights

The California Heights-Chateau Thierry was established in the mid-1920s, and the area grew steadily until 1939. Today, the neighborhood consists of approximately 15,000 residents. The predominant architectural styles are Craftsman bungalows, Spanish Colonial Revival, and Tudor Revival. The area is kid- and animal-friendly, and it's a bustling oasis. Atlantic Avenue provides a great walking area dotted with eateries, cafes, and shops.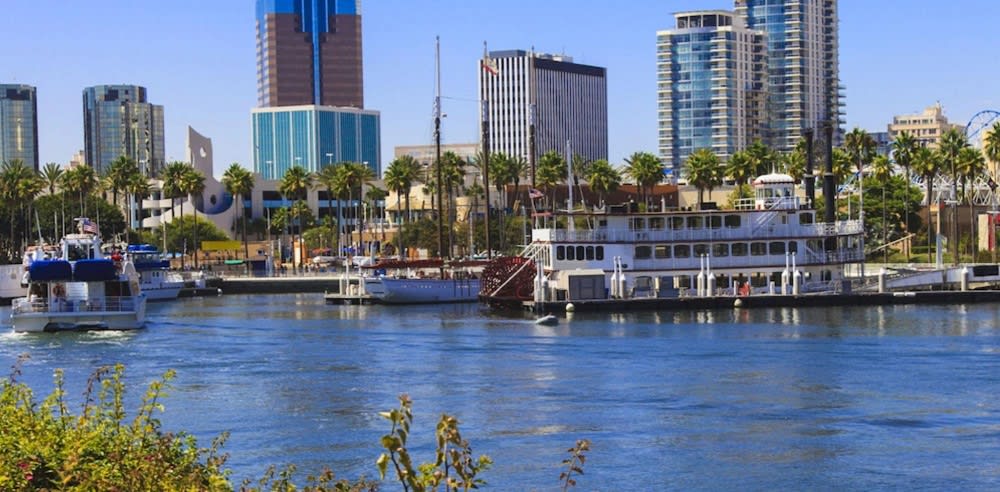 East Village
The East Village has about 10,500 residents, primarily young singles. It offers buyers a choice of many different housing options, including artists' lofts, high-rise condos, and Craftsman-style bungalows. The neighborhood is full of indie stores that stock everything from mid-century modern furniture and curated specialty sneakers to used books and unique fashion. One such shop is called
Make Collectives
, which delights shoppers with vintage clothing, bags, shoes, and unique home goods, jewelry, and houseplants. The East Village is an arts district and boasts a vibrant nightlife. Its restaurants nourish diners with everything from sushi and specialty coffees to chicken and waffles and sushi.
Los Cerritos
Los Cerritos is a neighborhood within a neighborhood that is a part of the Bixby Knolls community within Long Beach real estate. It is sometimes referred to as Los Cerritos or Virginia Country Club and is home to about 2,000 residents. Los Cerritos is frequently featured in Hollywood films and other productions because of its iconic estates that personify well-off American life. One of the homes on Country Club Drive was featured as the Bueller family residence in the classic 1986 comedy classic film
Ferris Bueller's Day Off
, as well as a few other popular films.
Wrigley
Wrigley is a group of neighborhoods in Long Beach that encompasses Wrigley Heights, North Wrigley, South Wrigley, and Southeast Wrigley. About 38,000 residents live here, and it was named after William Wrigley, Jr. He was the owner and founder of Wrigley's Company, made famous for its chewing gum, including such classics as the Juicy Fruit chewing gum, Spearmint and Doublemint gums, and Hubba Bubba bubblegum.
The homes here tend to be bungalow-style homes on palm tree-lined streets, with some larger homes scattered throughout. The community has developed a combination of light rail transportation with the
Wrigley Marketplace
shopping center. It features many stores and outlets as well as several dining options to cater to the needs of the nearly 281,000 residents that live within a three-mile radius.
Local realtors are experts in Long Beach real estate and are eager to help you find the perfect neighborhood to suit your needs. When you're ready to take the next step, reach out to trusted local agent
Ron Costa
for guidance.